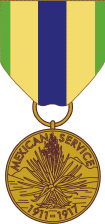 Mexican Service Medal




The Mexican Service Medal was awarded for service in any of the following expeditions or engagements:

a. Vera Cruz Expedition between 24 Apr 1914 and 26 Nov 1914.
b. Punitive Expedition between 14 Mar 1916 and 7 Feb 1917.
c. Buena Vista, Mexico on 1 Dec 1917.
d. San Bernardino Canon, Mexico on 26 Dec 1917.
e. Le Grulla, Texas on 8 and 9 Jan 1918.
f. Pilares, Mexico on 28 Mar 1918.
g. Nogales, Arizona during 1-5 Nov 1915 or 27 Aug 1918.
h. El Paso, Texas, and Juarez, Mexico on 15 and 16 Jun 1919.
i. Any action against hostile Mexicans in which US troops were killed or wounded between 12 Apr 1911 and 7 Feb 1917.

The Cacti served in Nogales in 1917 and 1918. On August 27, 1918, most of the Regiment had moved to Camp Travis, Texas, leaving behind companies F, G and H when a shooting incident at the border became the Battle of Both Nogales, and earned the Mexican Service Medal for members of those companies. During that battle, the Regiment suffered its first combat casualties.