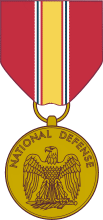 National Defense Service Medal



The National Defense Service Medal was awarded for honorable active service for any period between 27 June 1950 and 27 July 1954; between 1 January 1961 and 14 August 1974; between 2 August 1990 and 30 November 1995 and between 11 September 2001 and a closing date to be determined.

The National Defense Service Medal may be awarded to members of the Reserve Components who are ordered to Federal active duty, regardless of duration, except for the categories listed above. Any member of the Guard or Reserve who, after 31 December 1960, becomes eligible for the Armed Forces Expeditionary Medal, Vietnam Service Medal or the Southwest Asia Service Medal is also eligible for the National Defense Service Medal.

To signify receipt of a second or subsequent award of the NDSM, a bronze service star will be worn on the service ribbon by U.S. Army personnel so qualified. Second or third award of the NDSM is authorized for soldiers who served in one or more of the four qualifying time periods. It is not authorized for soldiers who met the criteria in one time period, left active duty and returned during the same period of eligibility.

Cadets of the U.S. Military Academy are eligible for the NDSM, during any of the inclusive periods listed above, upon completion of the swearing-in ceremonies as a cadet.

The NDSM may be issued posthumously.