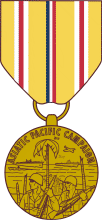 Asiatic-Pacific Campaign Medal




The Asiatic-Pacific Campaign Medal was awarded to personnel for service within the Asiatic-Pacific Theater between 7 December 1941 and 2 March 1946 under any of the following conditions:

On permanent assignment.

In a passenger status or on temporary duty for 30 consecutive days or 60 days not consecutive.

In active combat against the enemy and was awarded a combat decoration or furnished a certificate by the commanding general of a corps, higher unit, or independent force that he actually participated in combat.

The 35th Infantry Regiment was located in Hawaii, as part of the newly formed 25th Infantry Division, on December 7, 1941. The regiment then served in the Guadalcanal, Vella Lavella, New Caledonia, and Philippine campaigns.