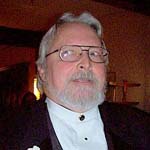 Welcome to the 35th Infantry Regiment (CACTI) Association website.
Here in the Northeast it looks like Winter is on the way out for this year. It seemed to last for longer than usual but that might have more to do with my bones being older than I like to admit. All I really know is I'm looking forward to some warmer weather.
Regardless of where we are, Spring heralds a time of rebirth and regrowth that I hope will extend to this Association. If you're one of our brothers and sisters who haven't yet joined us, I encourage you to consider it. Regardless of when you served with the 35th you're most welcome. Look around the site; see who and what we are; see how many of the folks you served with are already members; and finally join us.
It's also time to apply for one of our Cacti scholarships, if you haven't done so. These scholarships are intended to help our children and grandchildren continue their education After high school. Wether they're headed for college, university, trade school or apprenticeship programs we know there are costs associated with them and we want to help. Check the scholarship requirements on this website.
Finally, I want to wish each of you a joyful Spring season. I hope to see each of you at our annual reunion in September.
Mike Slyck
35th Infantry Regiment (CACTI) Association
President 2020/2021
Bravo 2/35 1969-197
Cacti Forever